Can I Wash My Car After a Vehicle Glass Repair?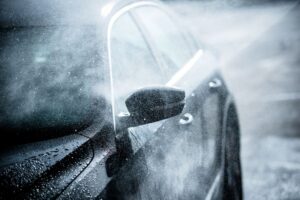 To Wash or Not to Wash Your Car After Windshield Repair
Proper Car Washing Procedures After a Windshield Repair
When you have your vehicle's windshield repaired or replaced in Miami, Palm Beach, South Miami, and Coral Gables, FL, the most important thing to remember is not to wash your car right away. This may seem silly, but if you want to keep your new windshield looking good for as long as possible, it's very important to follow this rule. Here is USA Auto Glass Florida's best approach to washing your car after getting the windshield repaired or replaced.
When to Wash a Car After Windshield Repair Service
The general rule is to wait at least 24 hours after the windshield repair or replacement for the adhesive or glass to settle and adhere properly. This means that, typically, it is not okay to take the car to an automated car wash until 24 hours have passed to avoid having to have your windshield repaired or replaced again. However, if you cannot wait, you may manually wash your car any time after the service has been performed. Just be sure to avoid spraying water at high pressure directly at the windshield, as this could potentially cause damage to the new glass and/or sealant. At USA Auto Glass Florida, we understand that as frustrating as it is to have your windshield crack repaired, it is even more frustrating to have to do it a second time. Therefore, we recommend waiting 24 hours to have your car washed.
How to Wash Your Car After Windshield Repair Service
When manually washing your car after having a windshield repair or replacement, it's important to take extra care not to spray high-pressure water on the new glass and sealant. The best way to do this is by using low-pressure water when cleaning your car and being careful around the new windshield by not spraying directly at it. It's also important to make sure you dry your car thoroughly after washing so no water is left between the glass and the sealant.
When to Contact a Professional Windshield Repair Company
If you have any concerns about whether or not it is okay to wash your car after a windshield repair service, it's always best to contact a professional windshield repair company for advice. Professional windshield service technicians will be able to advise you on the best options for keeping your new windshield looking great for as long as possible.
Contact USA Auto Glass Florida for Windshield Repair
At USA Auto Glass Florida, we provide quality services for both residential and commercial customers in need of windshield repair and replacement services. We guarantee all of our work, and our team has over 40 years of combined auto glass experience, so you can trust us to provide exceptional windshield repair service to the communities of Miami, Palm Beach, South Miami, and Coral Gables, FL. Contact us if you have any questions about the best way to care for your new windshield after having it repaired or replaced. Our team looks forward to helping you keep your car looking its best.