Do All Windshield Chips Need Repairing?
Windshield Chip Repairs in Florida
You hear the loud "ping" when driving and suddenly see a tiny chip in your windshield. It's not your fault, but it isn't a happy sight. That tiny chip may leave you wondering, do all windshield chips need repairing? The answer may surprise you. USA Auto Glass in Florida is here for all your windshield repair and replacement needs in Miami, FL, and the surrounding areas. Whether you need a small repair or a completely new windshield, we can handle it all. We'll even come to you to repair your windshield. We understand the stress of driving with a chipped windshield, just waiting for it to spread to the rest of the windshield. We'll dive into everything you need to know about repairing tiny windshield cracks.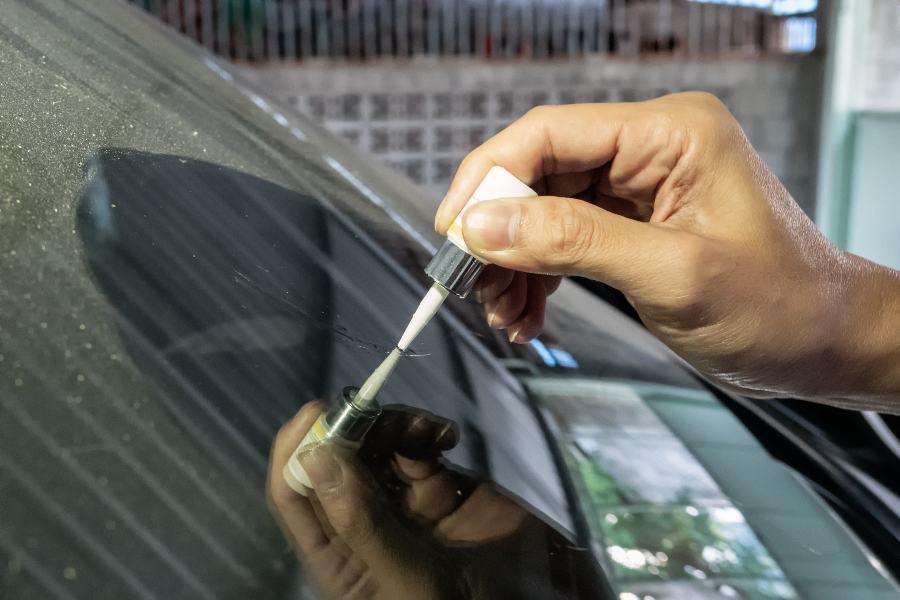 Difference Between a Chipped and Cracked Windshield
Windshield chips are typically minor blemishes caused by a break in your windshield's portion of a glass layer. They can usually be repaired if they are small enough. If the chip is deep enough to penetrate the inside layer of plastic, it's best to get a windshield replacement. Windshield cracks are a line where a single piece of glass is started to completely separate. They often begin as small cracks and grow into large cracks. Tiny particles of dirt and debris often get stuck in these cracks, making them worse.
Florida Windshield Laws
Florida has strict windshield laws to keep drivers and passengers safe in vehicles. The Florida Transportation Code Section 316.610 states that driving an unsafe car is a civil infraction due to defective or faulty equipment. A simple crack or chip in your windshield may violate this section. A police officer will determine if the shape, size, and length of the windshield chip impair the driver's vision. The good news for drivers in Florida is that car insurance companies must pay for windshield repair costs.
Rock Chip Windshield Repairs & Replacements
Our experts will determine if your windshield needs repair depending on the chip's location, size, and depth. It surprises many people when their tiny rock chip needs a windshield replacement. We often decide to replace a windshield because we know that the chip becomes deeper and deeper over time. It's critical to have your windshield chip examined as soon as possible to determine if you need a new windshield. It will save you time and money in the future.
Can I Perform Auto Glass Repair?
There are countless videos about repairing windshield chips and cracks. The answer is that you should always let the professionals handle auto glass repairs. Our technicians undergo extensive auto glass training. We perform auto glass repair on a daily basis so that we can save you time and money in the long run. We use high-grade materials to ensure your windshield chip or crack is repaired in the best possible way. We can also work with advanced driver assistance systems that have components that need to integrate with the windshield. These components must seamlessly connect, or they will not work correctly.
Is It Safe To Drive With a Cracked Windshield?
The short answer is "no." A small chip or crack may seem like an unsightly little blemish, but it can quickly become a significant issue. Windshields are one of the most important parts of your car. A visual obstruction can lead to deadly accidents. The windshield provides safety in the event of a rollover because the force of the wreck is partially transferred through the windshield. A windshield crack becomes a weak point in the structure, compromising the vehicle's structural integrity.
Reliable Same-Day Windshield Glass Repair
Our team at USA Auto Glass understands the stress of a small windshield chip. We'll assess if the damage is minor enough to repair it. Our windshield repair crew examines the size of the chip or crack, the number of chips or cracks, and the location of the chip or crack. We will perform a windshield replacement if the chip or crack affects the driver's view or is too close to the windshield edges.
We Perform On-Site Windshield Replacements
USA Auto Glass offers fast, on-site windshield replacements. We come to your location and perform a windshield replacement as quickly and efficiently as possible. We don't want to add any more stress to the situation, so we're proud to come to you for expert auto glass services.
Why Choose USA Auto Glass?
USA Auto Glass, Inc. is a locally-owned and -operated company with more than 40 years of combined experience. Our auto glass repair specialists are proud to serve Miami, West Palm Beach, Kendall, the Keys, Ft. Lauderdale, Homestead, and many surrounding areas. Our leaders believe in treating customers with the highest quality customer service and products. We believe we are making a difference with our on-site, fast, and reliable auto glass services.
Contact Us for a Free Windshield Repair Estimate
We urge you to call us as soon as possible once you experience a windshield chip or crack. We provide the fast and professional glass repair services you deserve. Most comprehensive auto insurance policies cover windshield replacements. Call us to come to check it out whether you have a tiny chip or a large crack in your windshield. We offer free estimates and will get the job done right the first time. Contact us today.